Mountjoy's female prisoners without specialised rape counselling since last August
The situation has caused alarm for those working in the sector, as international research suggests at least half of female prisoners have been sexually abused.
2.4k
2
6 hours ago
SPECIALISED RAPE CRISIS counselling for female prisoners in Mountjoy has not been in place since last summer.
They fell away with the retirement in August 2022 of the sole therapist providing the service at the Dóchas Centre, with efforts to hire a new practitioner failing.
The situation has caused alarm for those working in the sector, as the Irish Penal Reform Trust (IRPT) has pointed to international research suggesting that between 50-60% of women in prison have experienced physical or sexual abuse.
It said women in prison in Ireland are "among the most marginalised women in the State" and that the supports need to be reinstated.
The Dublin Rape Crisis Centre (DRCC), which provided the service with funding from the Irish Prison Service, said the struggles to replace the therapist have been part of a "general issue" in "attracting a sufficient number of qualified therapists, in spite of an almost constant recruitment drive".
"This was, and is, a very important service and we were proud and glad to provide it to Dóchas. Since the specialised therapist who carried out this work retired, we have been constantly seeking to recruit someone to take up this role, but we have so far not succeeded," a spokesperson for DRCC said.
"We remain committed to providing this service, and would love to be able to hire someone to do this work as part of their role with DRCC."
Its freephone 24-hour National Helpline continues to receive calls from people in prison, on which DRCC said people using the line receive "free, confidential and non-judgmental support".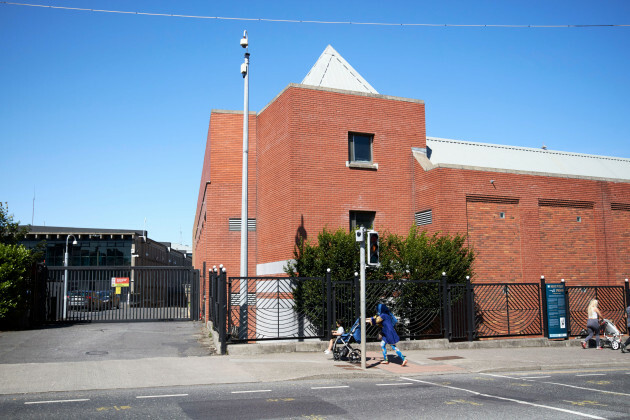 ALAMY STOCK PHOTO The Dóchas Centre unit for female prisoners.
The Irish Prison Service, which provided a stipend to employ the therapist previously, said it has been working with the Dublin Rape Crisis Centre with "a view to having the service restored", but it did not specify a timeline for this.
"The importance of women in prison being able to access rape crisis services cannot be overstated and action must be taken to ensure there are no gaps in service provision in female prisons," IPRT acting executive director, Molly Joyce told The Journal.
The situation has been raised with Justice Minister Simon Harris by Donegal TD and Oireachtas Justice Committee member Thomas Pringle, who submitted parliamentary questions on the Dóchas Centre earlier this month. These have gone unanswered to date.
Among them were queries aimed at finding out the number of women in Mountjoy who have experienced sexual violence, as "information is key to knowing the scale of the issue" so it can be addressed, Pringle said.
"I am very concerned about reports that supports from rape crisis centres are no longer available in the Dóchas Centre, Mountjoy Unit, and I would urge the minister to ensure these supports are reinstated as soon as possible," he told The Journal.
"Sexual assault and sexual violence is not welcome in our society and we need to ensure that all victims of sexual assault and sexual violence are supported, wherever they are."
Spotlight
The IPRT is set to put a spotlight on women in prison in its forthcoming Progress in Penal System report due to be published on Friday, which will also discuss serious overcrowding in the prison system.
In the Dóchas Centre, the number of women in custody outstretches the number of beds at 165 prisoners to 146 beds.
"The particular needs of women in prison are clear, and it is widely understood that much of the offending behaviour by women is a result of unmet social need and an absence of appropriate services in the community," Joyce said.
A spokesperson for DRCC said its work in the Dóchas Centre was provided by its trained and specialised psychotherapists.
"There is a general issue with recruitment of therapists, where we are in competition with state services which can seem to offer more competitive benefits – though we believe that working with DRCC is ultimately at least as rewarding, if not more so."
In its response to this publication, the Irish Prison Service said that female prisoners are supported by other services such as psychology, psychiatry, a prison-based medical team, and drug addiction teams in Merchants Quay Ireland and Exchange House.