"We are still here, and we are not planning on going anywhere. Young people all over the world are stepping up, showing that our leaders messed with the wrong generation." My full speech from The Climate Event at Southbank Centre this Sunday is here:
https://m.youtube.com/watch?v=ropBOw
===============
The last 8 years are on track to be the warmest on record. Sea levels are rising at twice the speed of the 1990s. We must answer the planet's distress signal with ambitious, credible #ClimateAction. #COP27 must be the place – and now must be the time.
https://public.wmo.int/en/media/press-release/eight-warmest-years-record-witness-upsurge-climate-change-impacts
==============

If you want the facts, not his self-serving falsehoods, Sunak is currently offering 900 locations in the North Sea for Oil and Gas exploration.
Sunak claims role as 'clean energy champion' on eve of Cop27
Scepticism from summit attendees as PM adopts Labour leader's stated aim of making UK a green 'superpower'
=============
Peter Kalmus ClimateHuman@climatejustice.social
Rich people flying private jets to UN talks sponsored by Coca Cola that give the fossil fuel industry a huge seat at the table while criminalizing climate activists is NOT the way to stop irreversible catastrophic fossil-fueled global heating. #COP27

Fred Bassett adds: addicted to litre bottles of Coca Cola but recently thought about the number of plastic bottles that go to our green bin and realised the truth about e-Waste when I watched a Netflix documentary. Guess what I have given up drinking Coca Cola as my small contribution to saving our planet
===============

Climate disasters are already hurting countries, communities & economies. Next week, #COP27 will start in Egypt and present a crucial opportunity for leaders to make meaningful progress on climate promises. #ClimateAction must become the global priority we need it to be.
=============
Replying to
Quote Tweet
uters
@Reuters
Nov 4
WARNING: GRAPHIC CONTENT Drought in Kenya killed 205 elephants and scores of other wildlife between February and October as much of East Africa endures its worst drought in 40 years https://reut.rs/3Eb18vf
============
Saudi Arabia and the UAE said the world needs higher oil production on Monday, just days before the COP27 climate summit aimed at curbing global warming takes place in Egypt.
Saudi, UAE tout higher oil production, days before COP climate talks
Saudi Arabia and the UAE said that oil remains a cornerstone of the world's energy supply, days before the COP27 climate summit kicks off
===============

Saudi Arabia will hold in November two high-profile green forums in Sharm el-Sheikh, on the sidelines of the COP27, in what reflects the growing interest of regional countries to address the effects of climate change
https://al-monitor.com/originals/2022/10/saudi-arabia-hold-green-forums-conjunction-cop27
by
al-monitor.com Saudi Arabia to hold green forums in conjunction with COP27 Saudi Arabia will hold in November the second editions of the Middle East Green Initiative and Saudi Green Initiative summits in Sharm el-Sheikh, on the sidelines of the COP27, in what reflects the… ============
==============
#Saudi_Arabia and the #United_Arab_Emirates said the world needs higher #oil production on Monday, just days before the #COP27 climate summit aimed at curbing global warming. #jusoor_post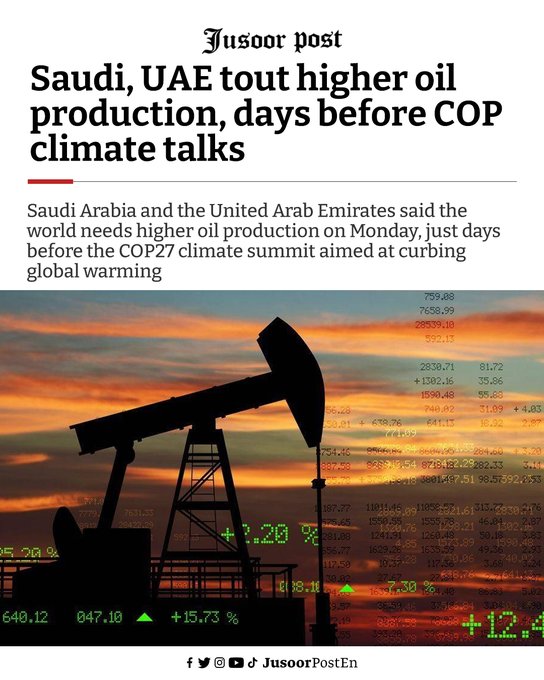 Barbra Streisand Accepts UCLA's Institute of the Environment and Sustainability Award
=============
Please listen and share: ONE DAY