'FREE FOR ALL' |
Open drug dealing taking place in Dublin flats as children play nearby
'A huge part of the inner city is an open drugs market' – councillor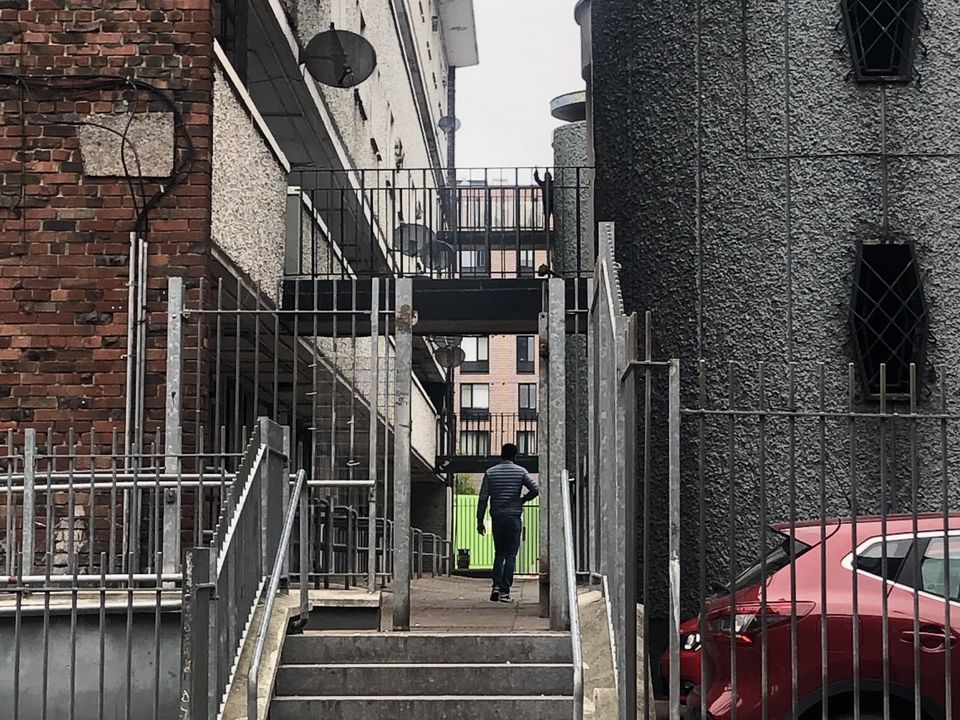 Amy Blaney
Lunchtime drug dealing taking place in Dublin as children play nearby
• Yesterday 11:05
Parts of north inner city Dublin have become an "open drugs market", with dealing taking place in broad daylight under the noses of gardaí, it has been claimed.
In scenes witnessed by Independent.ie this week, a number of drug deals took place at lunchtime in a flats complex off Gardiner Street as children played nearby.
In the space of about 15 minutes, six individuals entered and exited a known drug den. One parked his bike outside, while the rest came on foot a few minutes apart.
One man, visibly agitated, walked up and down Sean McDermott Street on the phone before entering and exiting the building.
Another man entered, taking what appeared to be money out of his pocket and exited less than a minute later. Meanwhile, children played in the playground next door.
After about 15 minutes two men in black puffer coats stood outside the upstairs flat where the men had been entering and proceeded to wave at this journalist.
Inner city councillor Christy Burke said the problem of open drug-dealing has been going on in the flat complex "for years, under the noses of An Garda Síochána".
"It has become a free for all. There is serious stuff going on there. There is activity going on there morning, noon and night.
"They [drug-dealers] stand on the balcony tooled up with sewer rods and hammers and hatchets in the event of anybody moving in on them. It's serious stuff.
"The problem with parts of the city is that the unacceptable has become acceptable. It's nearly a forgotten land. A huge part of the inner city is an open drugs market," he added.
The council has previously blocked off the back gate to the flat complex to reduce access, however, pedestrians can easily walk in though the open gate on the other side of the building.
A garda spokesman said: "An Garda Síochána in the Dublin Metropolitan Region (DMR) are committed to keeping people safe in their community and, as part of Operation Tara, established a dedicated drugs unit in each Garda Division, including Store Street.
"As part of a number of policing operations, Gardaí in the DMR North Central carry out proactive patrols in the Dublin 1 area on a daily basis.
"An Garda Síochána is committed to working with local communities and wider society to eliminate instances of anti-social behaviour and related crime in support of community safety.
"In October 2021, Operation Citizen commenced in Dublin city centre and was initiated to reassure the citizens, visitors and the business community that it is a safe place in which to visit, socialise, conduct business and enjoy its amenities."