NEXTA
@nexta_tv
The largest Eastern European media. To let the world know. Become our patron: http://patreon.com/nexta_tv
Media & News t.me/nexta_live
Joined September 2013

Chinese state media publish data on the forces involved in the exercises #Taiwan's Foreign Ministry called on the international community to jointly condemn #China's military threat
==============
Today, Russian troops shelled the town of #Toretsk in the #Donetsk region, which is under the control of #Ukraine. The occupiers hit a public transport stop. 8 people were killed and four were injured.
===============

President #Zelenskyy reacted to Gerhard #Schroeder's visit to #Moscow: "It is simply disgusting when former leaders of major states with European values work for #Russia, which is at war against these values."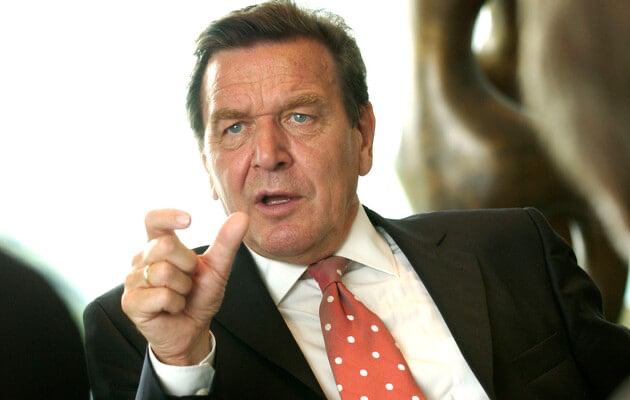 =============

This year Aug 24 #IndependenceDayUkraine coincides with #SixMonthsOfWar. Wear #YellowForUkraine and come to the Independence Parade on Aug 24. Meeting at 17:30 by GPO Dublin #StandWithUkraine FB event https://fb.me/e/2gG8EvjXg
FB event https://fb.me/e/2gG8EvjXg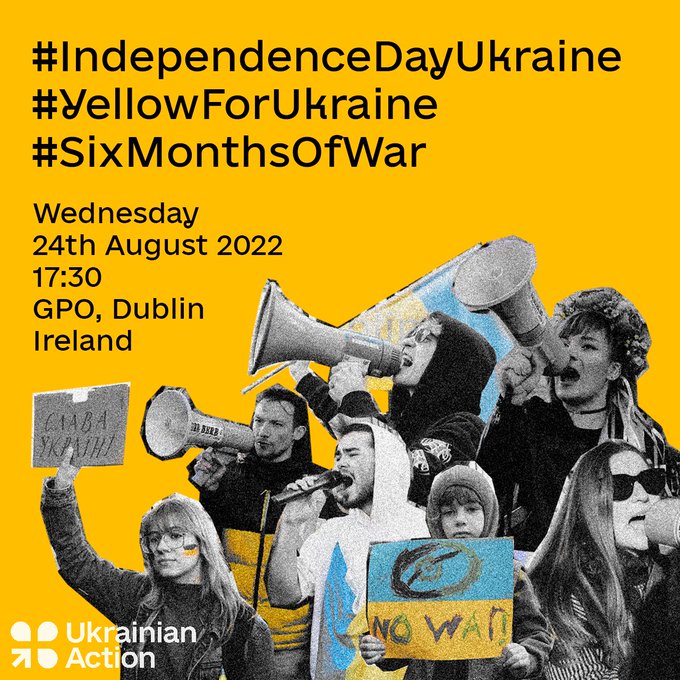 =============

Ukraine government organization
FM
for
"We call on all states and organizations to support the establishment of the Special Tribunal for the Crime of Aggression against #Ukraine. This crime has taken place, which means that there must be a punishment for it."
ukrinform.net Dmytro Kuleba, Minister for Foreign Affairs There won't be such a moment in history when the Crimea issue will be back-shelved — Ukrinform.
Considering that we live in the world as it is, where over 95% of the UN membership does not possess nuclear weapons, providing non-nuclear states with effective negative security guarantees should be considered as a top priority.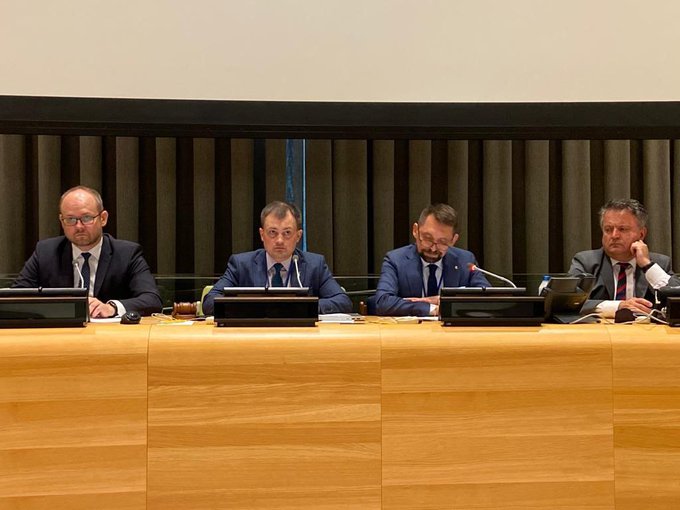 Marcin Przydacz and UKR Mission to UN
=============

Ukraine government organization
days of full-scale #Russia's war on #Ukraine. Information on #Russian invasion. Losses of the Russian armed forces in Ukraine, August 4.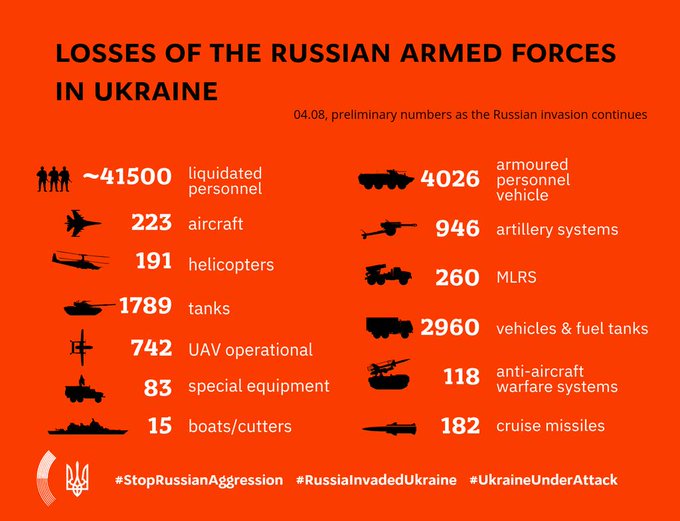 Night time is HIMARS time in Ukraine – but Ukrainian troops on the frontlines also need more Night Vision kit
Quote Tweet

Ukraine Aid Operations
@UkraineAidOps
CALL FOR HELP As is trying fiercely to gain terrain before a winter stalemate, we have to help . What's needed now is Night Vision so units don't become become victims of surprise night attacks. Many units have none! Please donate and retweet! https://donorbox.org/night-vision-f=
============
Херсон та імперські амбіції Путіна. Про вирішальний момент війни https://nv.ua/ukr/opinion/bitva-za-herson-skoro-rozpochnetsya-u-chomu-polyagaye-strategiya-ukrajini-ta-putina-ostanni-novini-50260878.html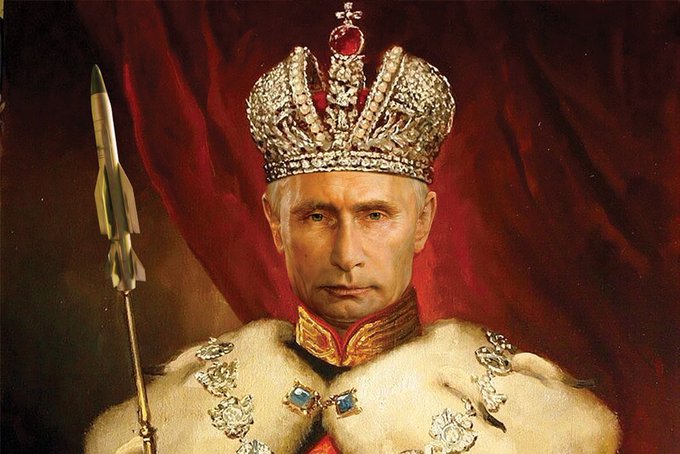 =============
Business Ukraine mag Retweeted
If Gerhard Schroeder says Russia wants negotiations, it means that Russia has been exhausted and needs a break. Either you read between the lines and double down on supporting Ukraine, or you buy the bluff, push Ukraine for concessions and give Russia a space to breathe & regroup
===============
Russians shelled a public transport stop in Toretsk, Donetsk region. Many reported dead (it is not clear yet just how many) #RussianWarCrimes
Quote Tweet
Українська правда
@ukrpravda_news
· 3h
Торецьк: росіяни влучили у натовп на зупинці, багато загиблих https://pravda.com.ua/news/2022/08/4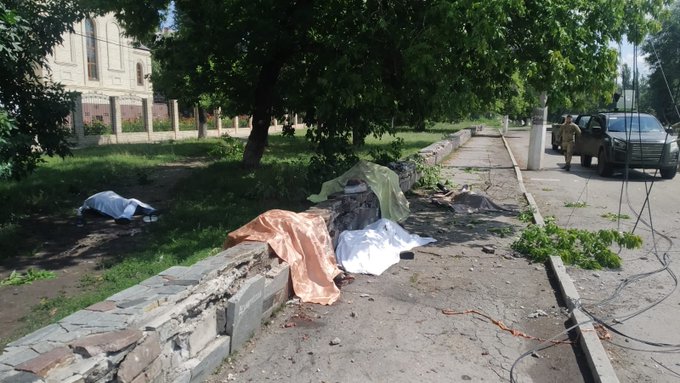 ==========

Sergii Nayev, the commander of Ukraine's Joint Forces, stated that Russia would now not be able to advance to Kyiv even if it tried. According to Nayev, Ukraine's defence in Kyiv region is way stronger now #StandWithUkraine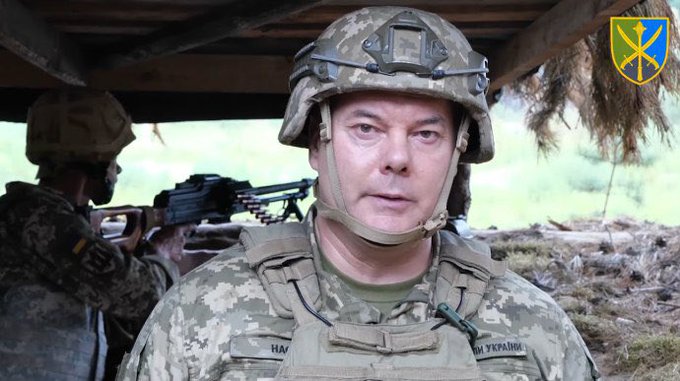 What is happening in Ukraine, and how does it affect your future? Watch to find out: https://youtube.com/c/UkraineWorld
=============

«We will keep requesting access to POWs who are or were held in Olenivka, and any other sites where PoWs are held, guided by our humanitarian commitment and our mandate under the Geneva Conventions»,
stated. Anyone believes Russia will provide access?
Olenivka penal facility: Prisoners of war and ICRC's role
We have received many questions about the ICRC's role in the international armed conflict in Ukraine, our work in helping POWs and